Regular price
Sale price
$98.00 USD
Unit price
per
Sale
Sold out
Sweet and tart, these tiny little currants truly pack a punch. Spiraled throughout our Zante Currant scones, they are great with clotted cream and jam but also with salted butter!
Ingredients

Unbleached Flour, Milk, Eggs, Unsalted Butter (cultured pasteurized cream), Sugar, Zante Currants, Baking Powder, Salt.
What's Inside?

• 6 Mrs. Bakewell's Classic English Scones
• 1 Jar of Bonne Maman Strawberry Preserves
• 1 Jar of Coombe Castle Clotted Cream
• 6 Twinings Tea Sachets (3 English Breakfast and 3 Earl Grey)
• 12 Mini Wooden Spoons (2 in each pack)
• 1 Gift Box
• 1 Large Ice Pack
• 1 Reusable Insulated Cooler Bag 

Although our products are shelf-stable, we include an ice pack and reusable insulated bag with every cream tea box to maintain a cool to ambient temperature. Due to the glass jars in our packages, we refrain from using dry ice. 

We reserve the right to make substitutions for products due to supply chain delays.

Our packaging is sustainable and eco-friendly without the use of styrofoam.
Shipping Dates

Due to the product's shelf-life, we only dispatch on Mondays, Tuesdays, and Wednesdays.

Order Monday → Ships by Tuesday

Order Tuesday → Ships by Wednesday

Order Wednesday → Ships by Monday

Order Thursday → Ships by Monday

Order Friday → Ships by Monday

Order Saturday → Ships by Monday

Order Sunday → Ships by Monday
Storage

Scones:

Our Scones are baked and then shipped frozen with an ice pack to preserve their freshness as there are no preservatives. They may thaw during delivery and should be refrigerated or frozen upon arrival if not consumed immediately. Please thaw before warming and assembling.

Clotted Cream:

Somerdale Clotted Cream is shelf stable but must be refrigerated upon opening. Separation of the cream occurs in storage, so please stir before serving. Once refrigerated, to achieve spoonable creaminess, please soften at room temperature for 10 minutes before serving.
Scone Assembly

There are two methods of assembling your scone. The Devonians in Devon insist the clotted cream goes on first and then the jam. In contrast, the Cornish in Cornwall put the jam on first and save the cream for the crowning glory to be dolloped on top. There is no right or wrong way as it is a personal preference. However, if you'd like to follow the lead of her majesty, the Queen of England, the jam goes on first and then the cream on top.
Share
View full details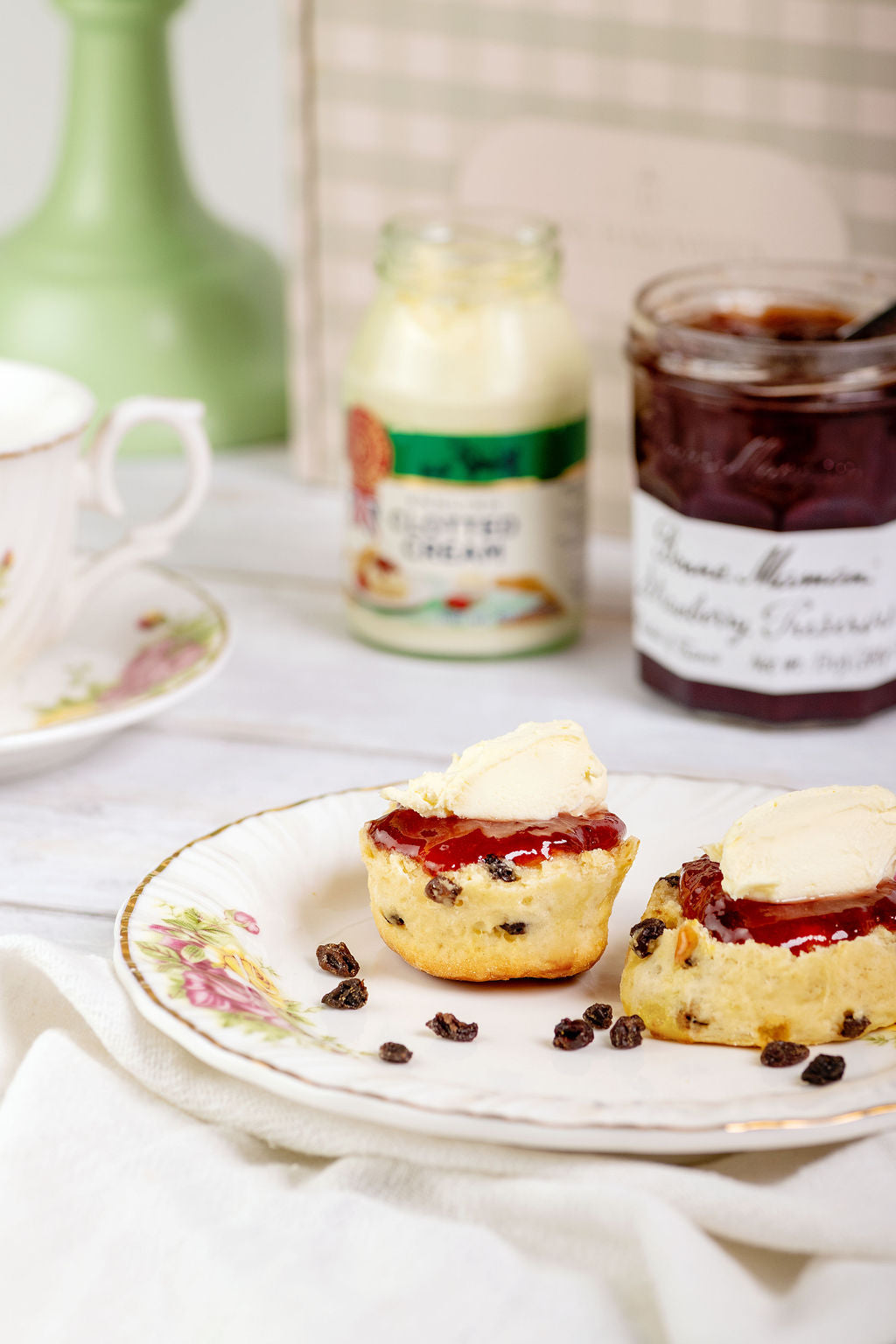 How To Enjoy The Perfect Cream Tea
Warm scones for 8 - 10 minutes in a 300° oven or toaster

Carefully split your scone in half

Add a dollop of clotted cream

Enjoy with your favorite cup of tea