Indulge in the pure joy of life's simple pleasures with our exquisite Cream Tea Box. This delightful package features artisanal scones, luscious strawberry preserves, luxurious clotted cream, fragrant tea, and more, all carefully handcrafted for your enjoyment.
"If you're a lover of afternoon tea like I am, this tea box from Mrs. Bakewell's is just the thing. It'd make a perfect hostess or housewarming gift for tea or The Crown fans in your life."
- Mary Orton, Editor / MEMORANDUM
"We had a chance to experience the magic of Mrs. Bakewell's scones and we are now lifers! You're getting more than food. You're unboxing a highly thoughtful experience that will bring joy to the entire table."
- Kinsey Schofield, Creator / ToDiForDaily.com
"The boxes were FABULOUS!! As if the boxes and their contents weren't charming enough, I think the reusable, insulated bags just send the presentation over the top. And the abundance of the condiments was marvelous, too."
- Tea Time Magazine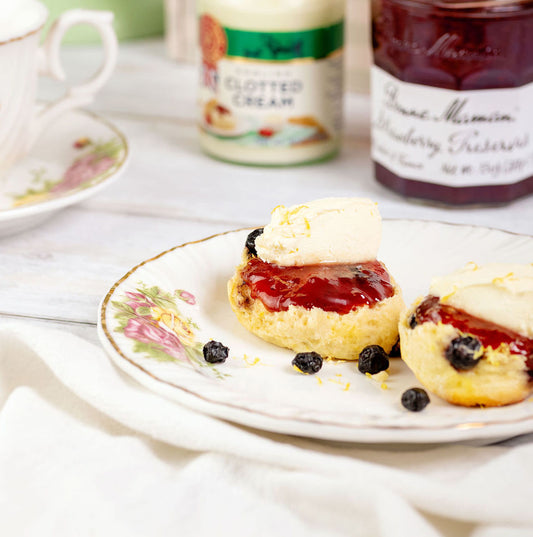 Our Quality
The quality speaks for itself, and we pride ourselves on our premium product. The ingredients used in our scones are the best of the best: high-quality flour, butter made with milk from grass-fed cows, aluminum-free baking powder, hand-zested oranges and lemons, whole and juicy dried fruits without preservatives, and the list goes on. In addition, we ensure each batch is made with the highest standards and lovingly handcrafted in small batches.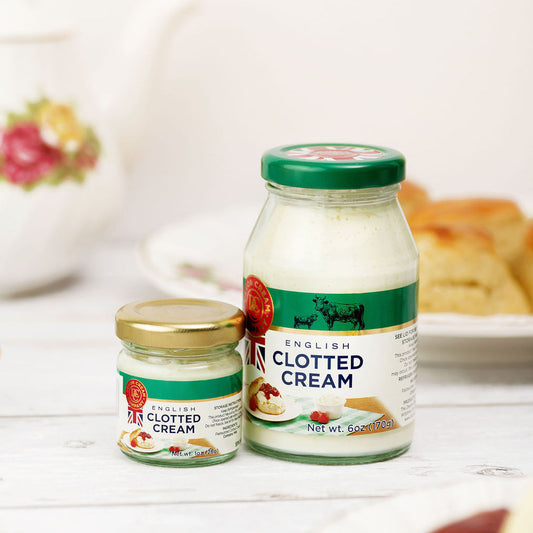 What's Inside The Box?
• 6 Mrs. Bakewell's Classic English Scones
• 1 Jar of Bonne Maman Strawberry Preserves
• 1 Jar of Coombe Castle Clotted Cream
• 6 Twinings Tea Sachets (3 English Breakfast and 3 Earl Grey)
• 12 Mini Wooden Spoons (2 in each pack)
• 1 Gift Box
• 1 Large Ice Pack
• 1 Reusable Insulated Cooler Bag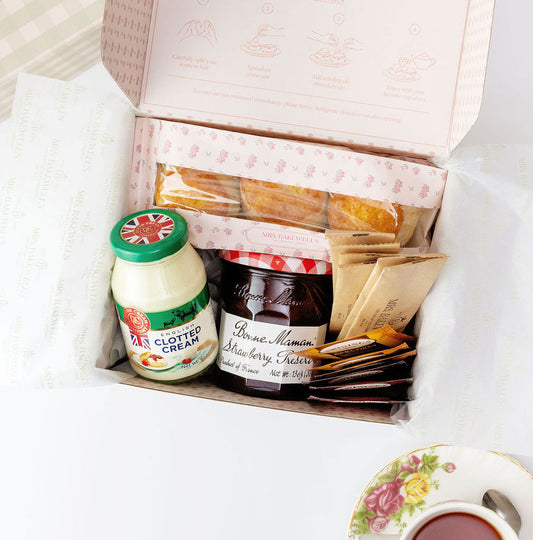 Cream Tea Origins
Originating from the southwest of England, cream tea was first recorded to be served at Tavistock Abbey in the 11th century, consisting of bread, cream, and jam. It quickly spread to Cornwall, where the Cornish split was invented, a sweetened bread served with jam and cream. Traditional cream tea has evolved into freshly baked scones, strawberry jam, and clotted cream—all served with a pot of freshly brewed tea.
Experience a truly authentic Cream Tea